The capital Colombo is home to the annual Colombo Art Biennale and the Kala Pola festival, making it one of the liveliest cultural destinations in South East Asia. Here are the ten best places to discover Sri Lanka's growing contemporary art scene, from Colombo to Galle and beyond.
________________________________________________________
Barefoot Gallery
Barefoot Gallery, 704 Galle Road, Colombo 3, Sri Lanka, +94 (0)11 250 5559
The alpha and the omega of local galleries. Any tour of the city's art spaces must begin or end at the Barefoot Gallery.

After almost 50 years of bringing artists and their work into the limelight, the space still remains on the cutting edge of the city's art scene. That's partly a facet of the sheer number of exhibitions held here.
It is now one of the most dynamic galleries in Sri Lanka, and home to art exhibitions featuring local and international artists, installations, concerts, poetry readings, performances, and film nights. With its ever-changing roster of exhibitions, it has remained an influential member of the city's art scene and continues to champion the avant-garde and cultivate the city's artistic talent. The space also includes a bookshop, boutique, and café – the meeting place for Colombo's hip, creative types.
________________________________________________________
Red Dot Gallery
Opened in 2007, the gallery is run by the Theertha International Artists Collective, an independent non-profit organization that facilitates the innovation, exchange, and dialogue of the local arts community.
To that end, the gallery focuses on contemporary artists working in the post-1990s Trend arena. 
39/4A D.S. Senanayake Mawatha, Borella, Colombo 8, Sri Lanka, +94 (0)11 2698130
________________________________________________________
Art Way Gallery
Located in the suburb of Nugegoda, in a striking colonial manor house known as a 'Walauwa', you will find one of Sri Lanka's most impressive and exciting art spaces. Since its opening in 2009 by artists Sudath Abeysekara and Achala Gunawardene, Art Way Gallery has worked to showcase the diversity of Sri Lankan contemporary and traditional art, from abstract art and installations to still life, portraits, sculpture, and everything in between.
Locally, the gallery provides workshops and classes at its in-house institute, training budding artists of all ages. Internationally, it has promoted Sri Lankan art by organizing exhibitions and workshops in institutions across the world.
No.66 Old Kesbewa Road, Nugegoda, Sri Lanka, + 94 (0)112 852 606 or + 94 (0)755 958 301 (mobile)
Hempel Galleries
This commercial operation has two galleries, one at Barnes Place in Colombo and another in Galle Fort. Since its launch in 2010, Hempel has played an active part in the development of Sri Lankan arts, both at home and abroad, through its presence at international festivals and through founder Annoushka Hempel's organizational role at the Colombo Art Biennale.
The galleries host the work of the nation's most prominent artists, as well as undiscovered talent, representing artists such as Anoli Perera, Pradeep Chandrasiri, and Cora De Lang. The main space at Barnes Place hosts regular exhibitions, whereas the Galle Fort apartment is a small but welcoming affair.
30/3 Barnes Place, Colombo 7, Sri Lanka, and 6 Pedlar Street, Galle Fort, Sri Lanka, +94 (0)774 282 067
________________________________________________________
Saskia Fernando Gallery
Saskia Fernando Gallery has been on the scene since 2009 and remains at the forefront of the contemporary new wave. This sleek gallery, which recently moved to new premises at Horton Place, showcases the work of emerging and established Sri Lankan artists, such as Yohan Medhanka, Anoma Wijewardene and Chammika Jayawardena, and exhibits installations, sculptures and paintings.
This new space also hosts PR, Colombo's first fashion concept store, owned by Annika Fernando, which specializes in clothes and accessories with a strong design sensibility. Saskia Fernando Gallery also has an exhibition space in Galle.
________________________________________________________
Paradise Road Galleries
Artworks are beautifully exhibited along the entrance hall and courtyard and are personally curated by Shanth, who is a known supporter of the local contemporary art scene.
This means that both the art on the walls and the food on the tables has been selected and prepared with an extraordinary attention to detail, making this establishment well worth a visit.
Paradise Road Galleries, 2 Alfred House Road, Colombo, Sri Lanka, +94 (0)11 2582162 or +94 (0)11 2556563
________________________________________________________
Viharamahadevi Park/Green Path Art Pola
The city is known for its huge annual, open-air art fair, Kala Pola, which offers an explosion of colour and creativity in the heart of the city every January. But for the rest of the year, there is a small, informal kala pola, or art market, held every day at the Viharamahadevi public park, along the Green Path, opposite the National Art Gallery.
At this market, you will find artists – mainly local art students – displaying their wares on the park's green railings, and selling them at affordable prices. Though the standard of work may not yet be gallery-level, this is certainly a pleasant and accessible place to view the vibrant art of the city, and perhaps pick up a piece from an artist before they hit the big time.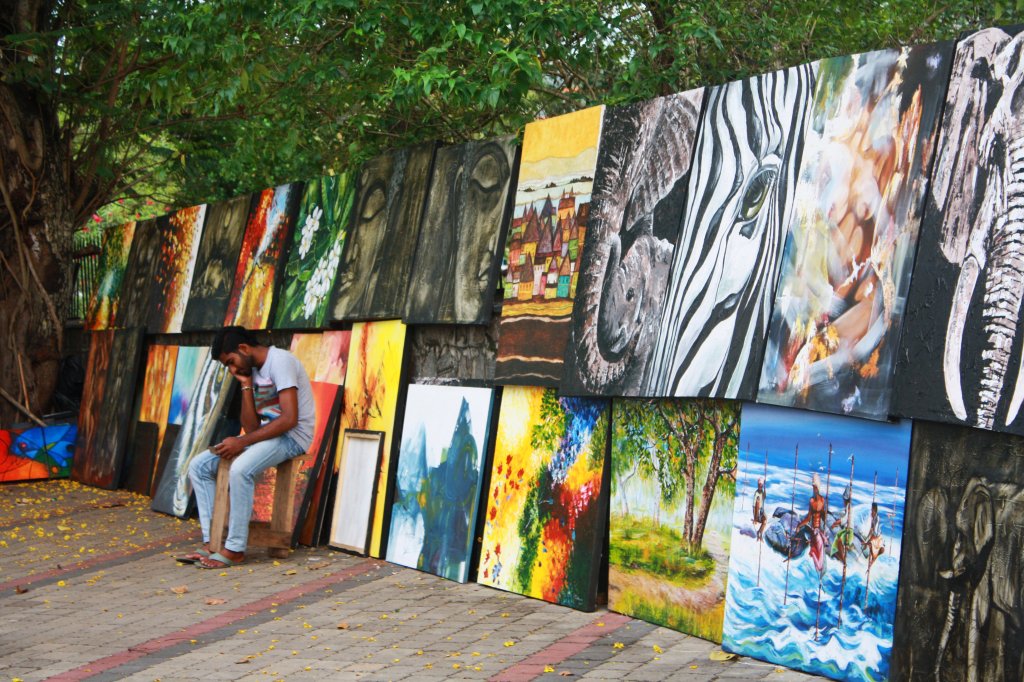 Viharamahadevi Park, Colombo, Sri Lanka, +94 (0)11 2 426900
credit goes to : https://theculturetrip.com/